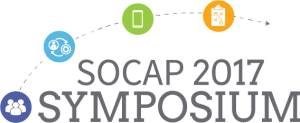 The SOCAP International 2017 Symposium takes place at Fairmont Chicago hotel, April 23 – 26, 2017. I'll be there presenting two sessions on branding, and I invite you to join us. SOCAP's community of customer care professionals gathers annually at this symposium to bring the best and the brightest speakers out for their members to network, collaborate, and receive professional and personal development credits.
I'm always honored when I am asked to share information on personal branding because it's how you stand out. It's how you are remembered and mentally referenced in the minds of others. It's the value you create for the world around you. When I get to leave a footprint in your personal branding journey, and guide you to defining a higher sense of self, it makes my heart smile. It's time for you to unleash your amazingness, discover your brand, and leave your mark on everything you do. As a Reach Certified Personal Branding Strategist, I have been masterfully trained in helping you connect with your most authentic attributes.
Learn more about my sessions at the SOCAP 2017 Symposium, and the professionals who create amazing customer experiences around the world on a daily basis.